Search Homes in Greater Raleigh Area, NC by "Lasso"
I am about to help you step up your searching game and you are going to thank me for this one!  Wouldn't it be great to be able to draw around an area that you like and only search for homes in that area?  Well, I aim to please…
Here is how to do it:
On the map, there is a pen icon. Click on it
Click one time (don't click and drag) on a  point of reference.
Click around the desired area and finish back where you started
Optional: Save the search (for example, "Lasso Search") by clicking "Save this Search". You can access the search by click on "Searches".
That is it!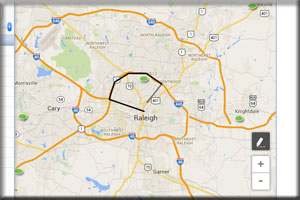 This is one of my favorite tools!  In fact, once you 'lasso' the area of interest, it is a great idea to save that search.  You can also add the "Days on Market" filter to track the newest listings in your target area.  Congrats, you are now an amateur.