Search the History of Homes for Sale in Raleigh, NC
Let's be honest, we all like to know a little 'more' about something or someone…  So, if you are single looking to mingle, I can't tell you how many unsuccessful dates somebody has been on in the last 60 days.  BUT, what if I told you I could tell you how many price drops a seller has done?  Maybe you can start to sniff out a little desperation out of a seller…
Here is how to do it:
Once you find a property and you are looking at all the details, scroll down and look under the "About this Property" section
Make sure you have the "Details" tab active.  There you have it, you can see "Days on Market" and "Listing Price History"
That is it!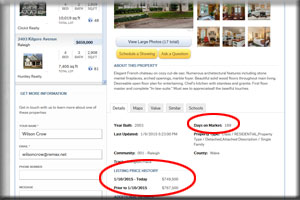 This tool tends to work better when a home has been on the market for awhile.  This tends to be beneficial for investors looking for properties that may be ripe for a lower offer.