How much square footage do we need?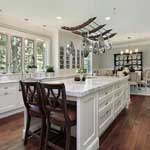 Would you guess 834 square feet per person? In fact, that figure has dropped for the last 4 years. Today's buyers are looking for "space in the right place". But, size still matters in kitchens, bathrooms and closets. So, what will you see in the 2012 new homes?
The recent tough times have forced many buyers to reevaluate what they want in their next home purchase.  For the last 4 years, the average size of the sold homes have decreased from 2,277 to 2,169.  With today's average household coming in around 2.6 persons, many families have asked "why spend money on what they won't use"?  This mindset has lent itself to builders constructing open floorplans, which consist of a kitchen-family-dining room combination.  Families want open space that can be flexible enough to handle the every day living.
What else is changing in the "new" American home?  From the looks of the most recent new construction homes, there are many other rooms/features that are being cut.  Specifically, here is what you won't see much of in the 2012 homes:
Formal Living Room
Two-Story Foyer
Second Stair Case
Cathedral ceilings