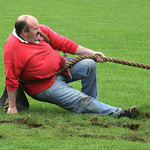 It appears that the tug-of-war match has heated back up between buyers and sellers. The report just released for April revealed that 70% of home sellers in Raleigh, NC got 'at or above' list price. Just to show you how far it has come…it was 58% in January.
So what has changed this year? Several things, but the biggest reason is the ole' Econ 101 theory of 'Supply and Demand'. In the Raleigh housing market for 2013, we are seeing a shortage of listings in all prices points up to around $750,000. In many cases, we are seeing homes in Raleigh log in 10+ buyer showings in the first couple of days. As a result, it has become quite common to see multiple offer situations.
If you want to see more Raleigh, NC housing statistics for April 2013, check out this video.

As always, please feel free to use the home search features right here on my website. I have created an interactive map to search for homes Inside the Beltline. If you are relocating to the area, you may want to start with a general search for all Homes in Raleigh.
If you are thinking about selling, click to find value of your home in Raleigh.
Lastly, if you would like to discuss my services, I would love the opportunity. Please feel free to read more about me. Depending on the service you need, you can learn about my home buyer agency service or listing your home service.