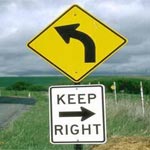 Talk about mixed signals… Unless you enjoyed those "are we dating or not" conversations when courting (borrowed "courting" from the 1800s), don't bother using national news to predict Raleigh's market.
Either housing reports come out about every other day or it seems that way since I read almost every one.  What tends to be confusing for most people is that one report talks about housing prices, the next talks about the number of sales, the next talks about foreclosures, the next talks about new construction and so.  Talk about paralysis through analysis.  Don't get me wrong, I think these reports have their merit…that is why I read them.  But, this is my profession and reading reports is kind of my thing. On the other hand, the typical buyer or seller shouldn't spend time paying attention to  this data when trying to make buying and selling decisions in their area.  While I read all of this data to discern trends, these numbers are pretty worthless in making buying and selling decision in your area.  There are good deals in a bad market and bad deals in a good market.  What is important…location, location, location.
This article in Smart Money talks about all of the housing reports much better I did…check it out here.