Search Homes in Greater Raleigh, NC by "Miles from a Location"
Often times, we want to live near a specific location.  Whether we want a short commute to work or want to live in a walkable neighborhood.  Wouldn't it be cool to create a search within a certain number of miles from that location (for example, you want to live 5 miles from work)?  Well, now you can!
Here is how to do it:
Underneath the main search, choose "Radius"
A little bit of work is required on your end…enter in the exact address of the location you want to be your point of reference
Choose how far you want to be from that point
Optional: Save the search (for example, "Close to Work") by clicking "Save this Search". You can access the search by clicking on "Searches"
That is it!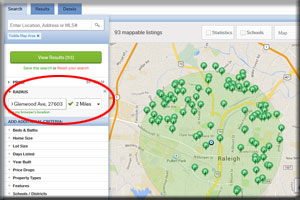 This is a great tool for so a couple reasons.  If you are relocating to the Raleigh area, try using this tool by entering your new work address.  Or, if you want to live  in a walkable neighborhood, find a restaurant or store's address and plug it in.